PURSUING THE DREAM
Goals:
To represent Canada at International Competitions, including the Pan American Games, World Cup, World Equestrian Games and the Olympics.
Robin-Lynn Brent:
Riding horses was a childhood dream that turned into a full time passion for Robin. After many years' training in the various equestrian disciplines, Robin made the decision to devote all of her training time and riding efforts to Dressage. Shortly after making this decision, she started working toward the building of a top quality equestrian facility for training. Construction on Stone Meadows began in 1998 and has become a well respected training centre in the Ottawa, Ontario area. During the building of the facility, Robin attended university and obtained two degrees from the University of Ottawa in Communications and Political Science, with concentrations in international policy and media communications.
Robin is competing Biolek, owned by Collected Effort Incorporated, at the Prix St. George and Intermediaire Levels.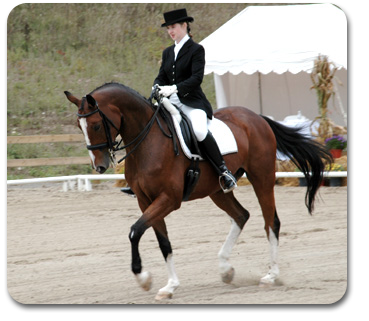 Sponsorship Information
In order to be at the top of any sport, a great deal of training and competition is required. To compete at these levels, the financial burden is great. The dream to represent Canada at international competitions, including the Pan American Games, World Cup, World Equestrian Games and the Olympics, cannot be achieved alone and depends greatly on the sponsorship of individuals and corporations.
In order to be competitive and qualify for a Canadian team, a top level horse is required and the ability to focus on training is key. It is also essential to compete in both North America and Europe for the international experience and exposure.
There are many ways to help Robin achieve her dream. Some traditional sponsorship ideas include:
purchasing a top horse;
joining a syndicate to aid in purchasing a top horse;
donating funds for training and traveling;
donating funds for competition expenses;
donating supplies: boots, tack, supplements, clothing, etc.
Sponsorship Benefits
There are many benefits to sponsorship, including:
If the horse makes a Canadian Team, the costs are tax deductible.
There is great exposure at this level of competition and your product and logo would be displayed on the horse, both in the show ring and at the show grounds.
All sponsors' signage is displayed at horse shows as well as at home at the facility.
Beyond the financial and promotional benefits, there are emotional benefits to being a part of a strong competitive team that will represent your country — There is a lot of enjoyment to watch a team and know that you are a large reason that this athlete is able to compete at this level.
With her experience as a dressage rider, trainer and coach, Robin typifies professionalism and sportsmanship in a way that defines her sport, and looks forward to representing Canada at prestigious international events.
Robin is also confident in her ability to represent her sponsors to growing audiences, and is open to any suggestions in which she may be able to contribute to corporate marketing, promotional and public relations initiatives.
If you are interested in participating in our current syndicate or would like to discuss other sponsorship options, please contact Robin directly at 613-295-9147, or e-mail: robinlynn.brent@xplornet.com. To learn more about Robin's Equestrian Facility, please visit other sections of this website - www.stonemeadowstable.com.