Main Stable
The main stable is the latest addition to the farm. With its extra wide aisles and ten foot ceilings, it gives the impression of being large and spacious. This stable is attached to the riding arena; is fully insulated; equipped with a digital ventilation system; has rubber-matted aisles; as well as large windows with protective guards for the horses.
There are a total of eight stalls in this stable, all with drop-down V-doors and rubber-matted floors. It also houses two large grooming/wash stalls equipped with hot and cold water; has a spacious tack room with full size wood lockers; and a separate feed and blanket room. There is also a washroom and a large, heated viewing lounge which includes a kitchen and comfortable sofa and chairs to watch the riding arena from. Above the lounge is a private storage area and office.
---
Additional Stable
There is an additional stable which has seven large stalls with drop down V-doors and solid dividers. Each stall has a window with protective guard. The aisle as well as all stalls have rubber mats. This stable also has ten foot ceilings, is well insulated, and has a ventilation system to encourage good air quality at all times throughout the year. There is also a separate feed and blanket room where grain and feed is stored. The large blanket rack is used to hang all blankets so that they can be aired and dried out before the next day's use. This stable also has a wash stall with hot and cold water and was built using a PVC product that prevents mold and mildew from occurring.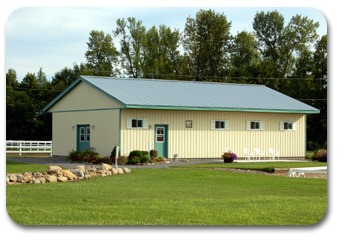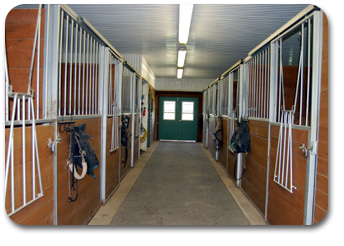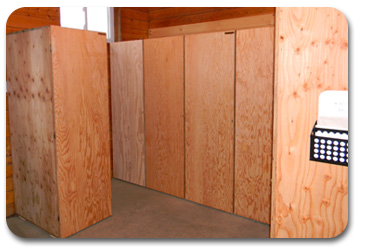 The tackroom is heated and provides each boarder with their own individual locker for their equipment. There is also a refrigerator, a microwave and a kettle for the boarders to use.
The tackroom in this stable also has a locker that is kept fully stocked with proper medical equipment and supplies in case of an emergency.
---
Grooming Stable
There is also a smaller stable on the property which is used for preparing school horses and outdoor boarded horses. This stable houses four large stalls with crossties in each, the floor is entirely rubber matted for safety, there are lockers for boarders to use, a blanket rack, and feed room.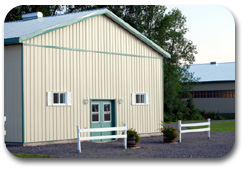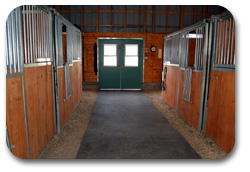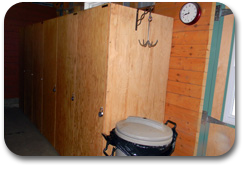 ---
Outdoor Dressage Ring and Patio
Just outside the 7-stall stable, and situated directly in front of the outdoor ring, is a patio for our boarders and their family and friends to enjoy. The outdoor ring measures 80 by 220 and is sand based with excellent tile drainage and lights for night riding. It is harrowed and hand raked often to keep the footing in ideal condition.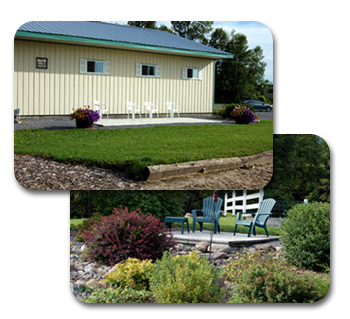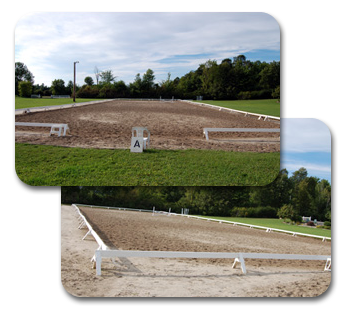 ---
Jumping Ring
The grass jump ring is 240 by 200 feet with a complete hunter/jumper course. During the winter season, jumps are available in the indoor arena.
---
Indoor Arena
The indoor arena is 70 by 150. It contains excellent quality footing that is properly maintained to prevent dust. It is also hand raked and harrowed often to provide the best conditions. The arena also has a ventilation system to circulate air flow and there are large doors that can be opened in the Summer for increased ventilation. The lighting is excellent with each corner well lit to ensure no shadows.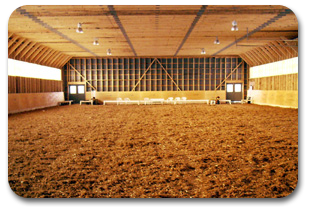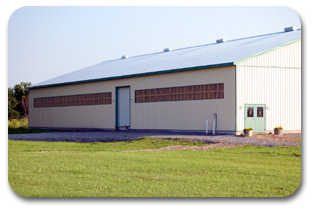 ---
Turnout
We have a unique situation at Stone Meadows with a lot of safe turnout. With 16 turnout areas for 27 horses, we can offer ideal turnout conditions. We are careful to match the horses' personalities so that the group turnout is successful and so that no horse is hurt or chased. 24 hour turnout is available in the Spring, Summer and Fall if you desire. In the Winter, horses are turned out between 8:00 and 8:30 am and brought in at 3:00 pm. During the Summer, we can change our turnout routine to avoid the sun and the bugs by turning suitable horses out at night starting at 4 pm until 8 am. We are flexible with turnout and want to find the best arrangement for each individual horse.
All turnout is wood and electric braid fence. Water is available in all paddocks with buckets cleaned and refilled daily. In addition, the paddocks are mucked and harrowed weekly to prevent any build up of manure.
We also do not feed round bales outside, but rather feed a set amount of square baled hay to ensure that the hay is always of good quality.
We will put on boots and blankets at no additional charge.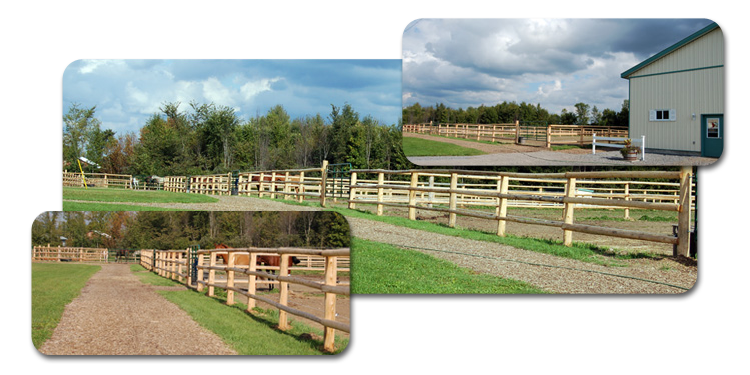 ---
Additional Features
Outdoor Wash Stall

— Located just outside the additional stable is a 12 by 12 cement pad with gravel path and crossties for bathing horses outdoors.

Hacking Path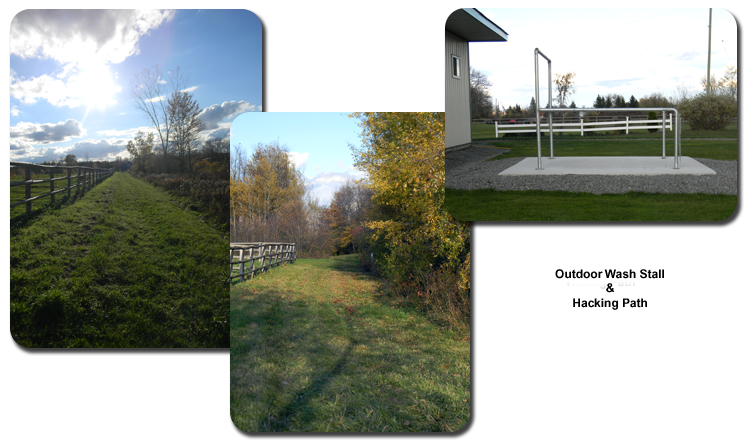 Round Pen

— We have a Hi-qual round pen that is about 20 meters wide. It is very safe with good footing. We use it for training and medically needed confined turnout.

Trailering

— We provide trailering to our facility as well to shows and clinics that our clients would like to attend. The trailer is also available in case of a medical emergency.