Horses for Sale & Lease
For Sale
2001 Biotop Gelding
Biolek is an outstanding 2001 Biotop gelding. He stands 16.3 hands and has three excellent gaits. He is the perfect combination of sensitive, light off the seat and leg but very safe and kind. He has an excellent work ethic and always gives his rider 110%. He is not spooky and very calm at the big shows.
Biolek is always in the ribbons having won numerous Championships with scores in the high sixties. Currently showing the Prix St. George and Intermeidare 1 Levels. He attended his first CDI in 2015 and received a Bronze Medal for the Freestyle.
Currently schooling all the Grand Prix movements. Great ease with the one tempis, passage and piaffe.
X-rays available from 2012. No soundness issues or health issues at all. Absolutely no vices, loves people and to be cuddled.
Super partner for a Young Rider, Junior Rider, Adult Amateur or young professional. Don't miss this one, he is special.
For more information please contact: Robin at robinlynn.brent@xplornet.com
---
For Sale
14.2 hh Paint Pony Gelding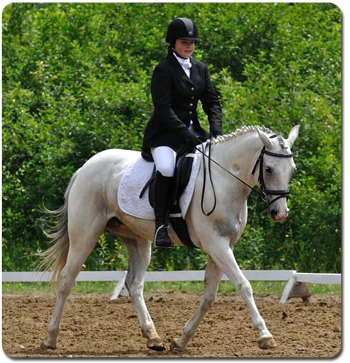 Silver Cloud (Silver) is a 13-year-old, 14.2 hh tobiano paint dressage gelding currently being ridden by a junior/novice rider. Silver is an intelligent and gentle pony that likes to work and is excellent with teenage girls. He has none of the naughty pony attributes, our boy is sensitive and moves like a horse. He trailers well and is good at shows.
This gentle boy is best suited for a smaller, relaxed and calm intermediate or advanced rider. He does best with a single rider that he can develop a relationship with.
Silver has been showing Training level and consistently places in the top three, with scores from 60.8 to 80.0% in 2011 at the Schooling/Bronze level, plus multiple Champion and Reserve Champion results. At the OADG Awards Banquet in 2010, he received Reserve Champion for Walk/Trot Equitation and an award of Merit (four scores over 60%, at four different shows) at the Schooling level. He has jumped in the past, but has no formal training in that discipline.
He is an amazing pony who needs to find his next best friend and a loving home. He is currently being used as a school horse on average three times per week. He is currently enjoying outdoor board all season. Owner has sadly moved up to a horse and no longer has time for him.
Included in the price is all his tack (dressage saddle and snaffle bridle) and equipment, as well as all his blankets for the cooler seasons.
Asking Price: $6000
For more information please contact: Robin at robinlynn.brent@xplornet.com
---
1999 German-bred Hanoverian Gelding, 17hh, Dark Bay

***SOLD*** — Congratulations Karina Cuhady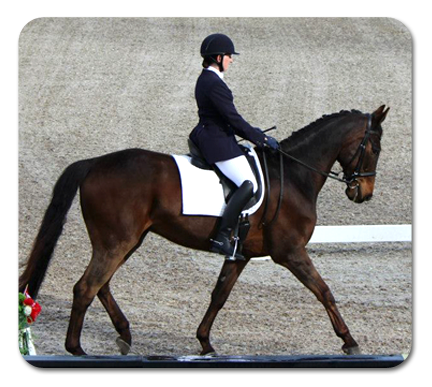 Sovereign (Sly) has three correct, elegant gaits. He has great presence and a natural athleticism that always gets the judges' attention. He is brave and doesn't spook easily.
He has competed on the National Dressage circuit with his current owner at 1st and 2nd levels, with scores into the 70's. He is currently training 3rd level.
Dressage achievements: 2011 Ontario Champion at 1st level, 2012 Ontario Reserve Champion at 2nd level, 2011/2012 Dressage Canada Horse Achievement Awards.
Sly is a talented jumper as well. With his movement and form, he would make a wonderful jumper, equitation and metal horse. He is a pleasure to work around, trailer, and clip.
Sly would be an excellent partner for any adult amateur or junior looking for their next dressage or jumper partner!
Asking $45 000
For more information please contact Tara:
tarafreel@hotmail.com
613-558-6610