Boarding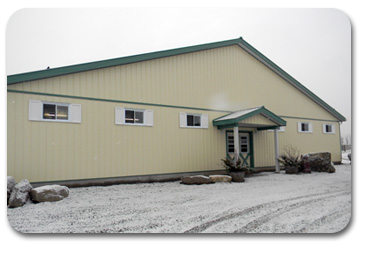 Front of Main Stable.
Stone Meadows focuses on quality care. Boarders are carefully selected and encouraged in a supportive, helpful and friendly environment.
All of our facilities are available to boarders between 8 am and 9:30 pm, 7 days a week; and, due to our unique private lesson program, all riding rings are open to boarders even during lesson times.
The horse care at Stone Meadows is of the highest quality. Turnout is available in small groups, or individual if needed. Horses are fed only top quality feeds and hay. Two grain and hay feedings a day are provided. We have several grain options available in order to provide the best nutrition for various horses' needs. Robin will be happy to discuss all your horse's nutrition needs and come up with a plan that will best support your horse's system.
All the stalls in the stables have rubber mats as well as removable water and feed buckets. These buckets are cleaned daily. Stalls are mucked out thoroughly every day and the stalls are pulled back and rubber mats disinfected each day during turnout to prevent ammonia build up.
Stone Meadows schedules both farrier and veterinarian appointments, at no additional charge, so that your horse is always on the proper schedule. Your horse is also placed on our de-worming program and this only requires you to pay the fee for medication for these services.
Also included in our boarding service is the feeding of supplements provided by the owner and any blanketing and booting for the winter season.
We pride ourselves on running a high quality facility with attention to detail. We treat each horse as though it was our own.
Monthly Boarding Rates:
Indoor Boarding (see Facility for details)
$ 800 plus HST
* Boarding requires client to take one lesson per week minimum.
Custom packages are available to suit you or your horse's individual needs. Please contact us for details.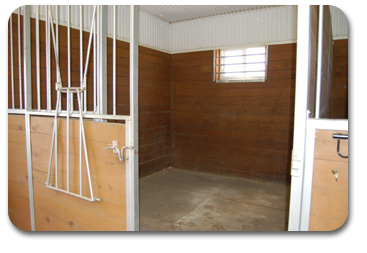 All stalls are rubber-matted, with drop down v-doors, solid dividers and a window.
---
Lessons
Stone Meadows offers a unique lesson program of only semi-private or private lessons. We feel that the chance to work one on one with the trainer allows for a more complete development of the horse and rider. This individual treatment allows the instructor to be more in tune with your horse and also permits the trainer to ride your horse if necessary.
We focus on the development of proper position, including intense development of body awareness. Along with this fundamental training we offer progressive development of both horse and rider in order to compete in the show ring.
Lessons are available in both Dressage and the Hunter/Jumper disciplines, on your horse or ours. The horses used for lessons at Stone Meadows are all highly trained show horses that have been under Robin's training.
We also feel that stable management is an important part of riding; therefore several clinics are available during the year to teach these aspects of horse care.
Lesson Rates:

Coach: Robin Lynn Brent
Private Lesson 45 minutes

$ 80 plus HST
(Click Here to read about Robin.)
Off the Property
Please call to discuss.

Kristen & Nano
Training
Stone Meadows also takes a limited number of horses in for re-training or starting under saddle.
All horses are developed in a non-resistance manner. We consider each horse's personality and past when training. We also require that the owner be part of the training process in order to learn their horse's personality better allowing them to work with their horse in the future.
Robin also takes limited horses in for training in order to sell, as well as horses for competitive sponsorship. Please contact her directly for more information.
Training Sessions:
At Stone Meadows:
Training session for horse

$ 80 plus HST
Off the Property:
Training session for horse

Please call to discuss
Training and Lesson Packages
Full Training (Three to four regularly maintained lessons/training sessions per week): $65 per session plus HST
All training programs and costs are custom tailored on an individual basis depending on the training requirements.
---
Trailering
We provide trailering services to the farm and local area shows. In addition, we are also available for limited long haul trailering. Please contact us for information. Trailering rates are dependent on the distance and number of horses being transported.
---
Show Coaching
Many of Robin's students and horses compete throughout the Ottawa area at various levels — primary, trillium and national — and have won numerous awards and championships. Robin provides show coaching to those students who take lessons.
Show Coaching Rates: $70. plus HST per Day
There is a small mileage fee if we are not trailering your horse to the show.
Stacy MacIntosh and Robin Byrne

Champion Award at OADG Banquet

Brooke

Tara & Sovereign

Ontario Dressage Championships

2011 First level Champion

Breana and Billy
---
Clinics
Both Robin and Jon are available for clinics in the United States and Canada. We offer a range of topics and formats for your particular interests. Contact us and let us know what we can design for you.
Popular topics in the past include:
- Starting a young horse on the ground;
- The fundamentals of position;
- Dressage for Jumpers;
- Conformation and its effect on movement and training; and
- Preparing to Drive.
---
Sales and Marketing
We can aid in the selling or buying of horses, either at auction or privately. We are experienced in preparing horses for sale, as well as giving the owner an honest opinion on the horse's value and marketability. We often have both buyers and sellers calling for our help in contacting other interested parties.
Robin does the buying, selling and promoting of the performance horses, while Jon does the buying, selling and promoting of the Draft horses.
There are many options available to you if you wish to use this service. Please contact us for more information.
---
Farrier Work/Shoeing
Jon is a qualified farrier who specializes in shoeing draft horses for the competitive show ring. He also provides farrier services for performance horses and is available in both the United States and Canada.
Please contact us in advance of the work required in order to allow us to fit you into Jon's busy schedule as well as for information about rates.